Task:
Launch hot canned coffee into a coffee saturated American market.
Situation:
Canned coffee is a Japanese tradition. But how could we get Americans to trust a canned option when there is a coffee shop on every corner? Well, through a mini-segmentation, we identified a group of people called the Chronically Late who often miss out on their morning caffeine.
Insight:
You never want to be the asshole who shows up late with a Starbucks coffee in hand. There's no more self-serving reason for being late than stopping for caffeine.
Strategy:
RUSH is the first coffee built specifically for the chronically late.
Creative Concept:
Time Waits For No One.
Keep reading for extended strategy or ...
RUSH doesn't exist...yet. It's a new brand built on a coffee tradition adopted from Japan. The coffee comes heated in a can, ready to drink at a moments notice. The category has failed to take off in America despite attempts from a few investors and entrepreneurs.
Our team was tasked with exploring the market, building a brand from the ground up, and ultimately succeeding where others have failed. At first glance, you might think, "with a coffee shop on every corner, who on Earth wants a pre-heated canned coffee?"
So to begin, I asked people to screenshot pictures of their alarm settings to do a mini-segmentation of our wake up rituals.
A persons alarm settings tell you a lot about them as individuals. It's a window into their morning ritual.
Mini-Segmentation Results
People got excited to share their mornings with us. We heard everything from the horror stories of running late to work to the people who don't bother with setting alarms.
Most pertinent to us was the segment of those we dubbed the Chronically Late.
They set and sleep through A LOT of alarms. They described waking up as trying to shed a metaphorical sludge and all of their alarms included hilarious self-loathing messages.
We wanted to put a face to the name, so below is personification of our target.
Allow me to introduce you to Jordan.
Jordan, for the life of her, can never be on time. She struggles to get out of bed in the morning. She sets so many alarms, often containing these self-depreciating messages like "YOU HAVE A PROBLEM" and "You have 5 mins... U HAPPY??"
It's not her fault, she's just wired a bit differently. Her morning consists of hitting the snooze, checking her phone, and scrambling to get ready once she realizes the time. More often than not, she ends up forgetting her morning caffeine. Which is tough, because she feels like her day hasn't really begun without it.
However, the guilt associated with being even more late leaves her feeling like she has no options. This is who we want to talk to, the Chronically Late.
Although every ritual is different, there are some connective themes,
so let's take a tour of one example of a Chronically Late morning.
Herein lies the problem, our target is caught between a rock and a hard place:
Be On Time or Be Caffeinated
But this is not coffee's fault, today's trends just aren't geared to this type of person. With the explosion of third-wave coffee (artisanal, single-source coffee), there has been a doubling-down on stop and stay cafe's vs. a quick in and out.
For hot coffee, a cup o' joe has become it's own special event.
There is a changing definition of coffee in America and it fundamentally celebrates the barista experience. However, our target has no time to stop for an artisanal latte or even hit the drive-thru of Starbucks.
As it stands, there isn't a perfect solution for them in the current coffee landscape.
And although Americans are becoming more familiar with canned coffee with the come up of cold brew, a hot canned coffee still has yet to land on it's feet.
The problem has been that in a country where there is a coffee shop on every corner or easily accessible, why would a regular person ever settle for a canned option?
The truth is, they wouldn't have to. But our target doesn't have the luxury of Stumptown, or Starbucks, or even the Keurig. Every option simply makes them later.
But the proof that this concept works is in the pudding .. or the coffee. Yeah, it's in the cold brew coffee.
Capitalize on the emerging coffee in a can trend by launching a hot canned coffee that embraces the behavior of the chronically late.
Creative - Time Waits For No One
For our target in particular, time is of the absolute essence.
Our product is built from the ground-up to be grab-and-go.
We knew that all of our executions and tactics needed to echo this idea for our product launch to be a success.
Introducing RUSH
RUSH is the first hot canned coffee in America. The name has three connotations: our target is often in a rush, the caffeine from our beverage gives them a rush, and they are often finding themselves in rush-hour traffic. We wanted the name to do some heavy lifting for the product and RUSH does just that.
Partnership
Launching a brand new product and category is tricky. To help bring a sense of legitimacy and professionalism to the brand and product, we will be partnering with Amazon. Meaning they manage, store, and ship all of our items for one low cost. It gives us the ability to utilize Prime Now, Prime Shipping, and sell directly from their site. In return, Amazon gets exclusive distribution rights to a brand new product in the American market.
A win, win.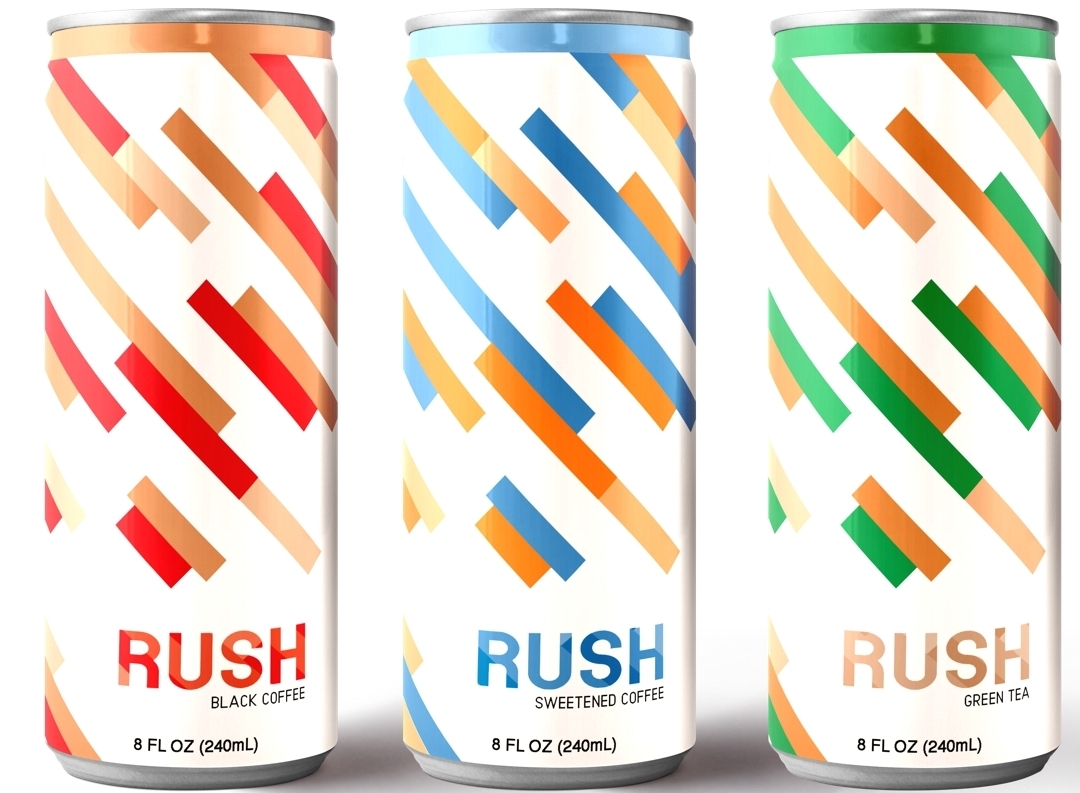 Simple, elegant, bold. Colors help tell the story of what's inside.
The nature of commuting means spills could occur. This feature eliminates the worry.
Heating
Traditionally, these coffees are exclusive to vending machines. We wanted to innovate two new ways for our target to get it as well as create our own take on vending machines.
Vending Machines
Vending machines are placed in subways, businesses, and on college campuses.
Click on the below images to get more details
Home Heater
The Home Heater operates as a "hot fridge" that keeps your cans warm for three months.
You load cans in from the top and take from the bottom.
The home heater features a partition and two exit doors so you can easily organize your coffee or tea.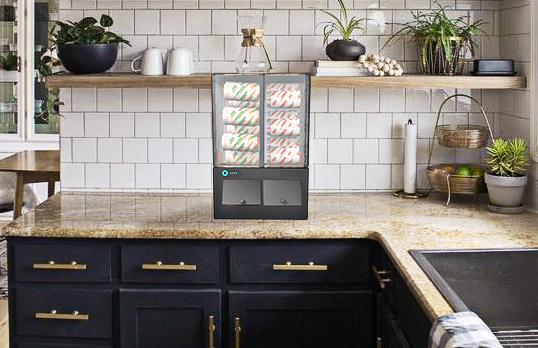 We want our target to see the heater as the
kitchen-aid for their coffee
Sleeve Heater
For those who choose to not have a home heater or prefer on-the-go heating, the Sleeve Heater fits into their life.
Simply place a can into the heater, click the power on, and have a heated coffee in moments.
No matter how you commute, the Sleeve Heater fits seamlessly into your life.
Spreading The Word
If you remember back, our target spends A LOT of time in bed looking at Facebook and checking their email.
So we developed two communication solutions to take advantage of these opportunities.
Both the Facebook ads and the email ads push the viewer to download our RUSH app.
Facebook
Animated to catch the viewers eye. The copy is simple and straightforward and the tagline tells the whole story.
A tongue in cheek approach to "brief" news services that aren't so brief.
(Looking at you Skimm)
Three headlines + a RUSH push.
Geared to get you through your elevator conversation.
RUSH App
The app functions as a quick pay tool and order manager.
You can save a flavor preference, maintain a balance, and find machines near you.
Quick and painless, just like RUSH.
Why This Works
We built a connected ecosystem on the behaviors of our target.
We're not asking them to change, in fact, we are celebrating what makes them who they are.
Our concept is pulled through in every execution and ultimately,
We've positioned RUSH to be the flag-bearer of heated convenience in the United States.