Task:
Launch Hello as a disruptor in the oral care category
Situation:
The oral care category never jumped on the body positive train. By peddling fear and insecurity, oral care companies have soared to great success.
Insight:
Our oral care competitors are wolves in sheep's clothing, posing as friends but in reality being the biggest culprits in making us feel insecure.
Strategy:
Combat oral insecurity with the only emotion stronger than fear ... love. Hello is the first true champion of mouths!
Creative Concept:
We Love Mouths
Keep reading for extended strategy or ...
Hello Oral Care is the brain-child of serial entrepreneur Craig Dubitsky. Most notably are his efforts on EOS & Method Soaps, two brands that disrupted their respective categories. Hello is a thoughtfully crafted line of oral care products including mouthwash, breath spray, and their signature item: toothpaste.
Craig approached us with the task of setting Hello up to be a disruptor in the oral care category.
To begin, we wanted to take a look at how society views bodies, and more importantly, how our self-conscious viewpoints affect us.
"I HATE THE WAY I LOOK"
As a society, we are tough on ourselves.
Our default setting is to look at what is "wrong" with us, rather than what is "right."
We're quick to judge and as a result, 97% of women and 69% of men feel pressured to have a better body.
This includes our hair, our skin, our stomachs, our legs, and our teeth.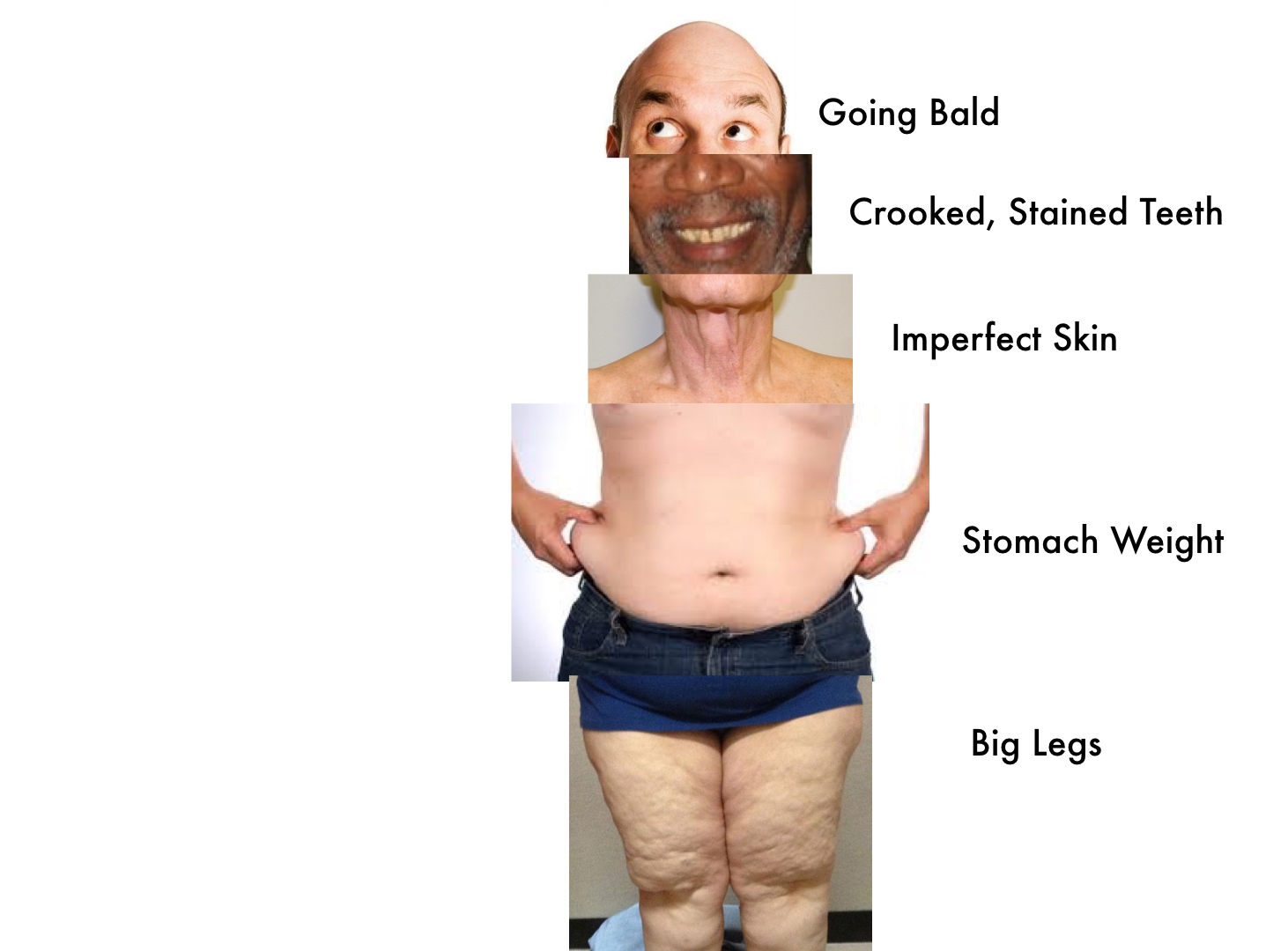 The Components of Self-Hate
A look at our most loathed body parts.
But this isn't "new news."
What is interesting however, is that in a world glamorized by Hollywood, we have made great strides in body positivity. However, it's a different story for the mouth because there has never been a catalyst for change in the oral care industry.

As a result:
MOUTHS HAVE BEEN LEFT BEHIND IN THE BODY POSITIVE MOVEMENT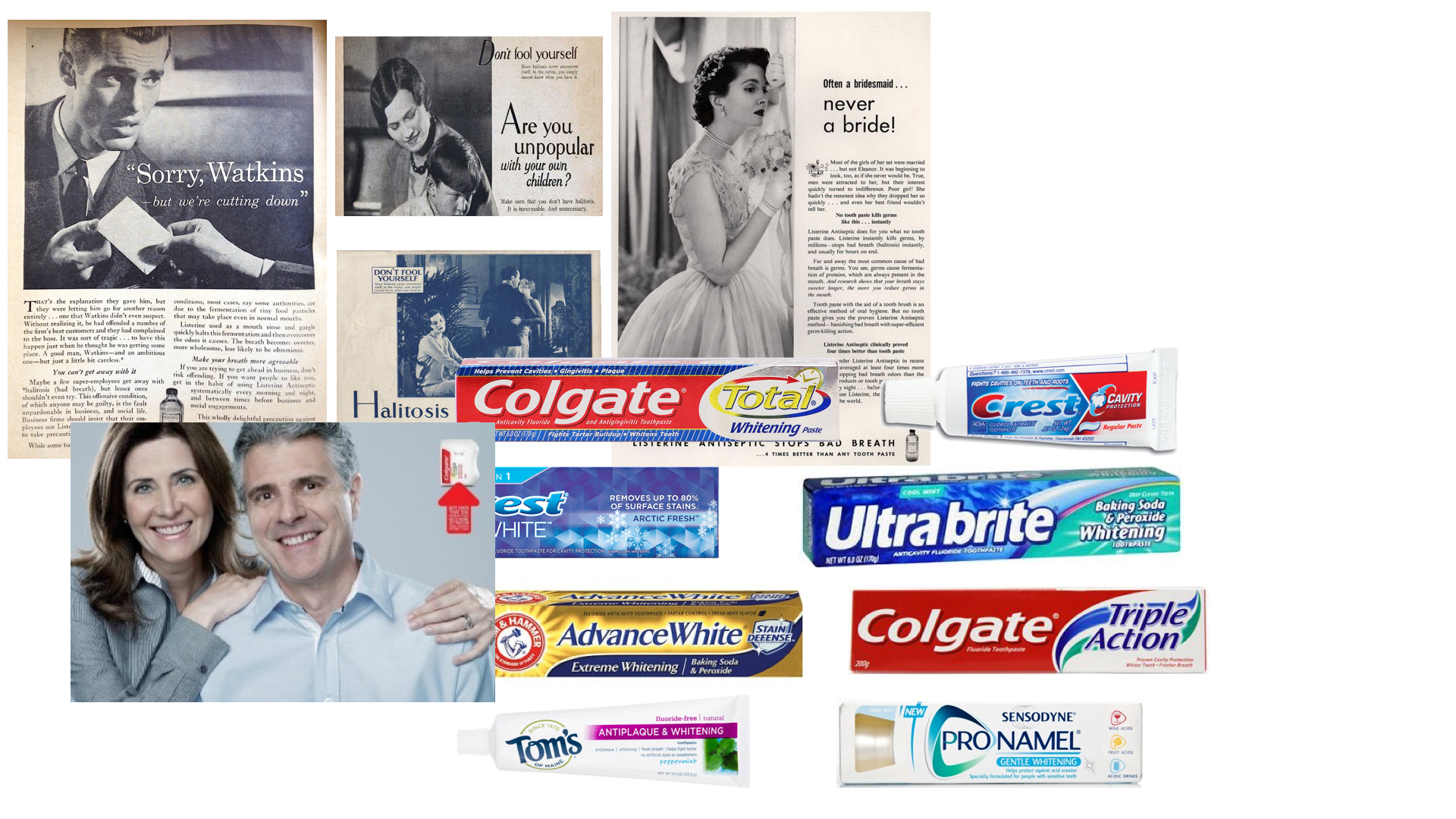 An Industry Rooted In Insecurity
Oral care advertising was built to make you second guess yourself.
Oral care advertising showcases how bad our breath might smell, or how much the food in our teeth could be distracting, or how stained our teeth may appear.
The products themselves also build this insecurity. They each sell a different aspect to having the perfect mouth. If we're not ultra-whitening, stain-defending, and cavity-destroying, then we're doing something wrong.
Oral care companies act like our friends, when in truth, they are the biggest culprits in undermining us.
THEY ARE WOLVES IN SHEEPS CLOTHING.
Oral care companies have never changed because fear is powerfully mobilizing and consequently:
FEAR IS PROFITABLE.
Just seven years after running their iconic halitosis campaign, Listerine profits grew 4000%.
So how can Hello, the self-proclaimed friendly brand disrupt the oral care category?
Utilize the only emotion stronger than fear ... love.
Insight:
The oral care category is rife with wolves in sheep's clothing.
Strategy:
Combat oral insecurity by using the only emotion more powerful than fear ... love. Hello is the first true champion of the mouths!
Creative - We Love Mouths
Launch Video
In our own Dollar Shave Club moment, we wanted to create a video that would signal our entry into the market. However, we wanted to up the ante. Our video is actually interactive, meaning when you see a glowing portion, you can click on it to be sent to another educational, funny, or interesting side clip. Ultimately this gives the viewer a more immersive experience and turns what is normally a passive medium, into something active. Video stars yours truly, I apologize in advance.
Retail Trial Program
Hello has amazing distribution, we wanted to capitalize on this by creating an easy on-boarding process for new consumers to test out our toothpaste. We called it the "Toothpaste Retirement Program" because if we love your mouth, we still love your old toothpaste.

Check out below to see how it works.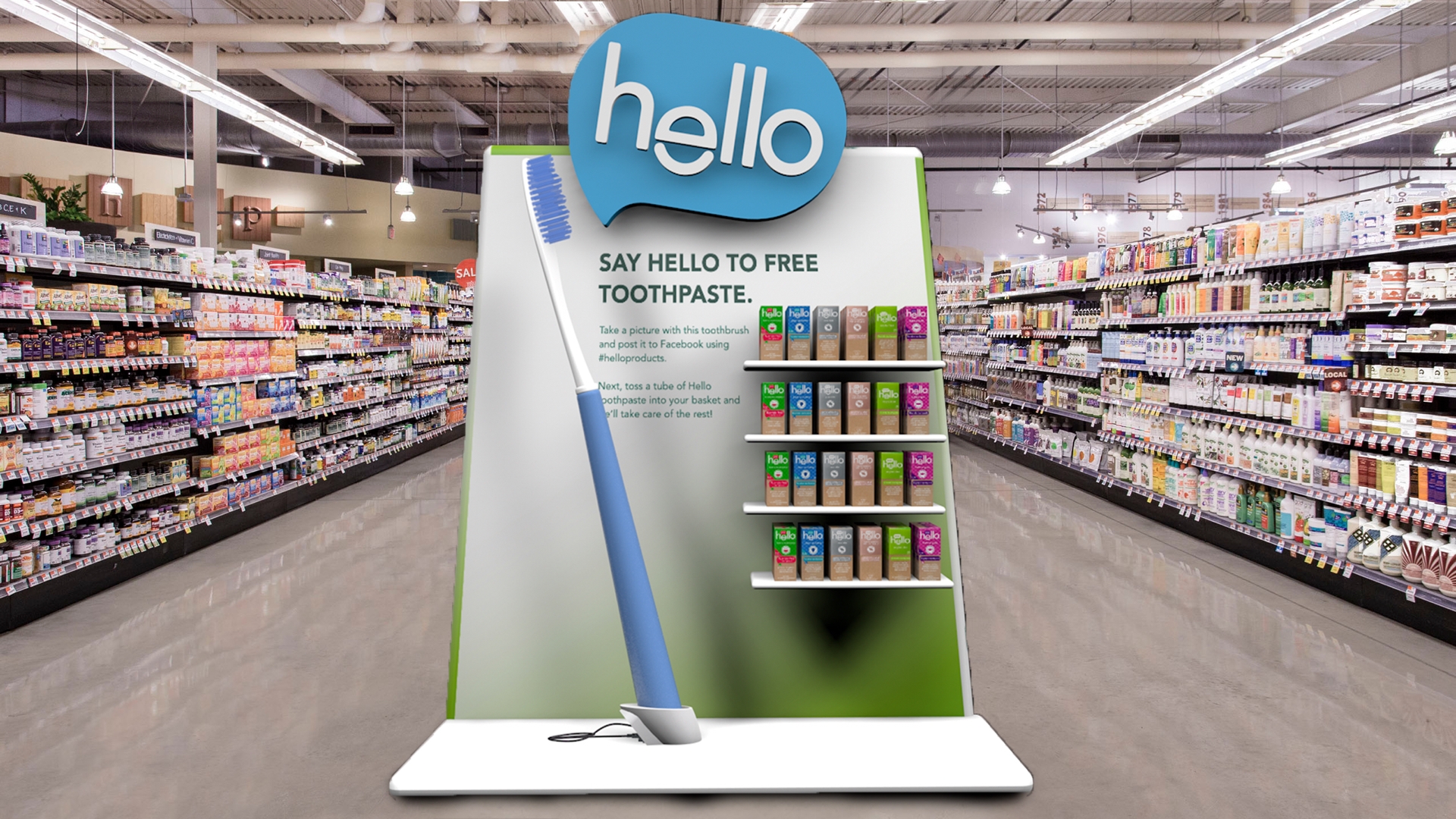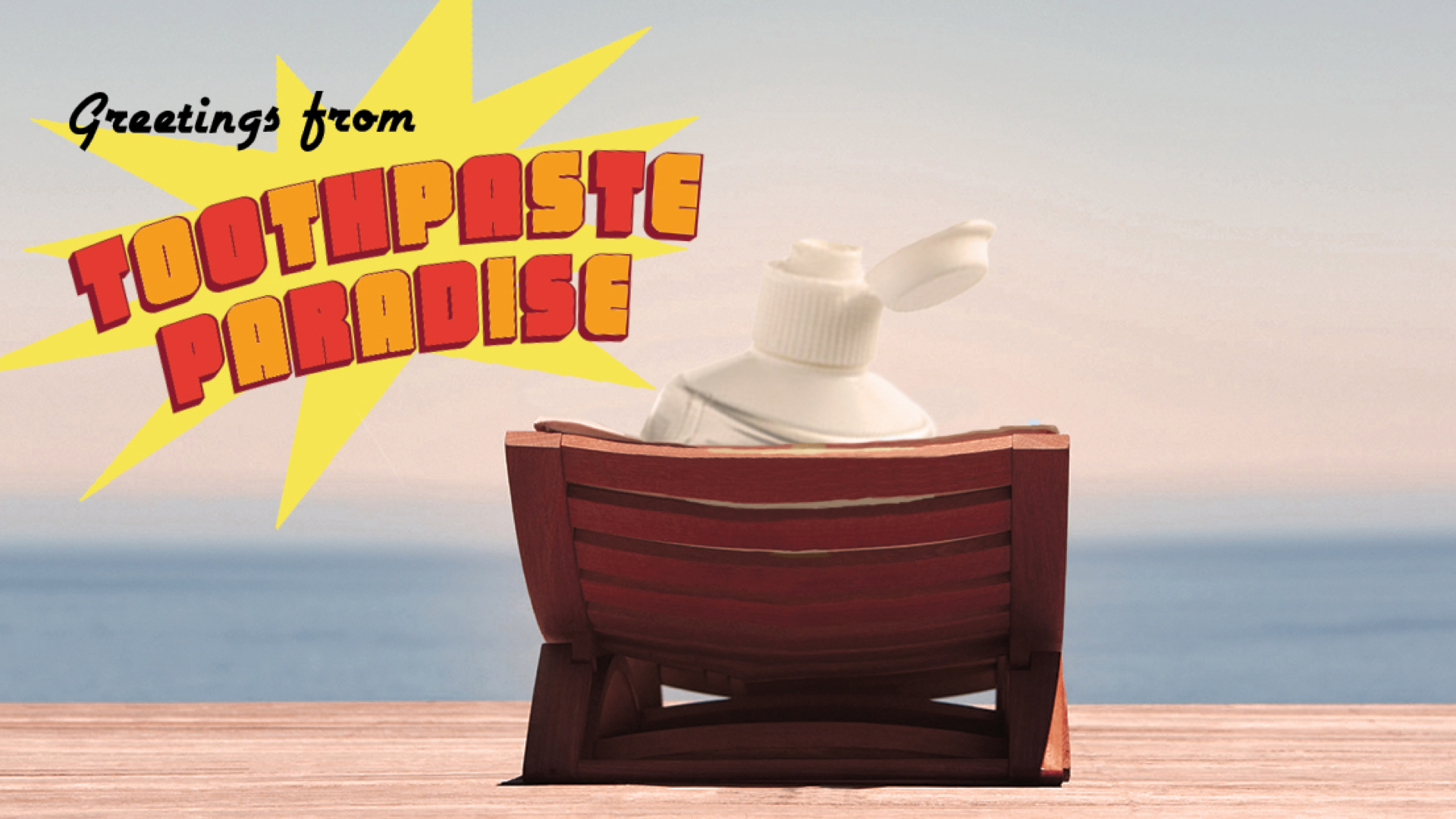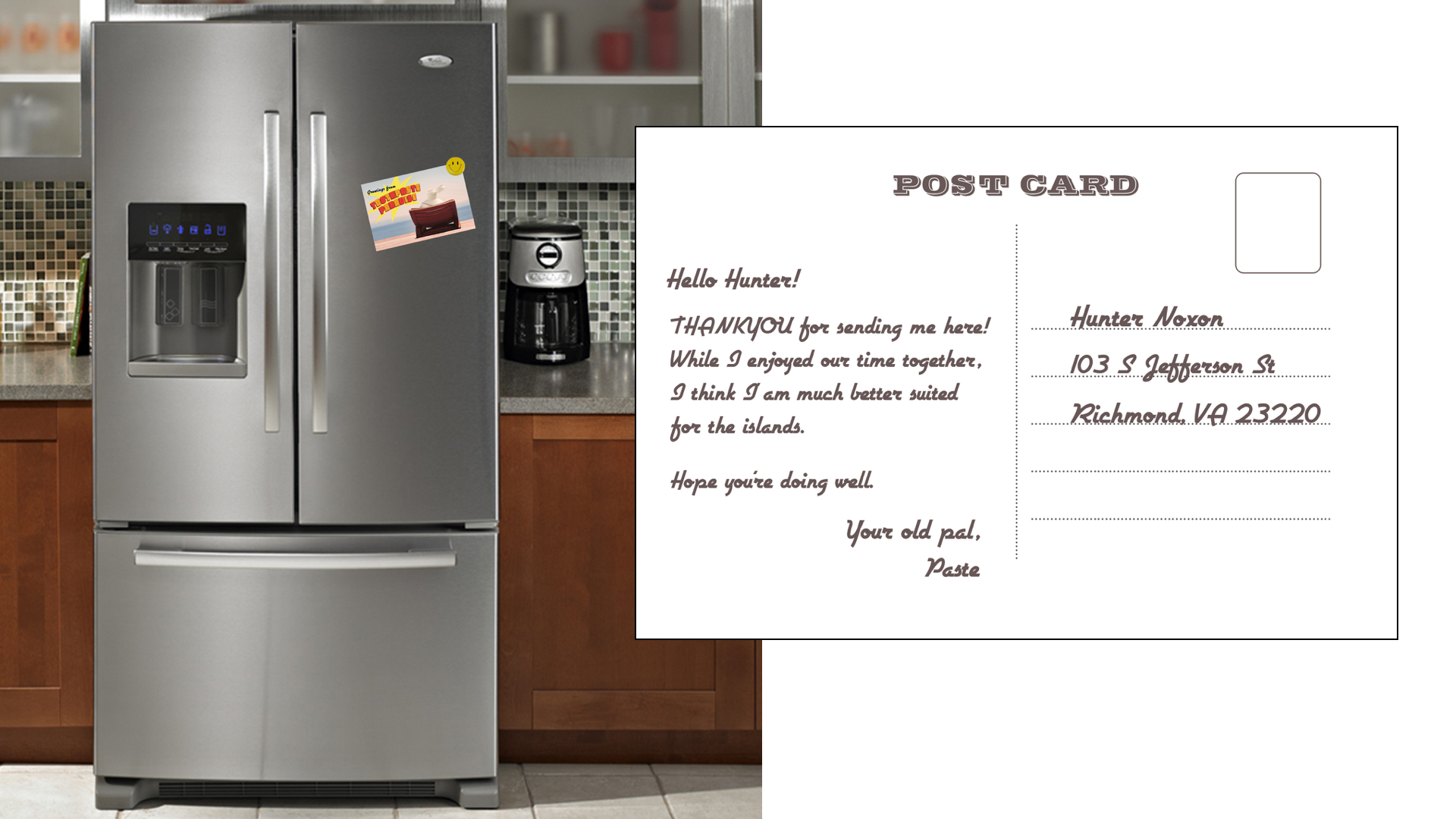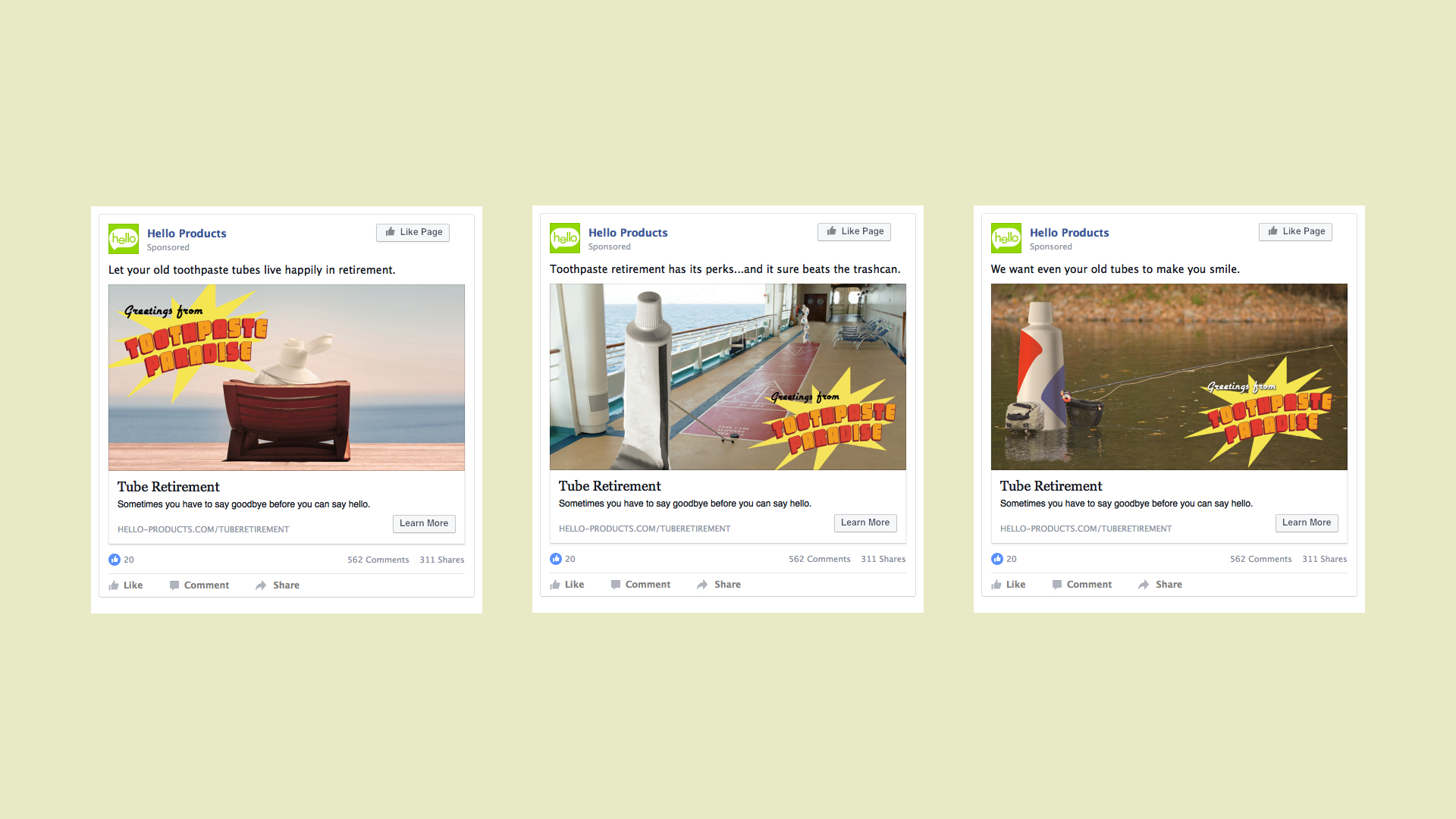 Website - Driving Subscriptions
Shop-alongs showed us that you only ever really think about buying toothpaste once you're in the aisle.
This has equated to low brand loyalty.

Our team wanted to streamline the process by developing an oral care subscription service + accompanying site.
We wanted our site to deliver two things: information + sales.

We redesigned the site from a product catalog to an informational hub and easy subscription manager.
Product information is simply laid out and reordering or changing a subscription is only a simple click away.

It's clean, approachable, and easy. What's not to love?
Subscription Service + BrightBrush
We wanted Hello's subscription to deliver something another brand couldn't.
So we developed the BrightBrush - an electronic brush that tracks the exact amount of brushes you have left until the head needs to be replaced. Now you may be wondering, how would someone measure such a thing?
Well, with a combination of dentist input and rigorous testing, we determined the exact amount of brushes to be 54,720 strokes.
If Hello wants to be a brand that loves your mouth, it should let you know when to change things out!
Companion App
The BrightBrush syncs with a companion app that allows you to manage your subscriptions, track your families brushing habits, and see how many brushes you have left until you need to replace the head.
Leveraging New Social Media
Let's face it - oral care is boring.
To help get the word out and drive interaction,
our team utilized emerging digital marketing options to create the biggest possible impact for Hello.
Why This Works
We're taking a creative approach to a bland category.
Our communication efforts are immersive and active.
All of our content and experiences push people to our revamped e-commerce site to drive subscriptions.
And ultimately, we are building a brand whose core value is love when the category norm is anything but.